Steve saw Ray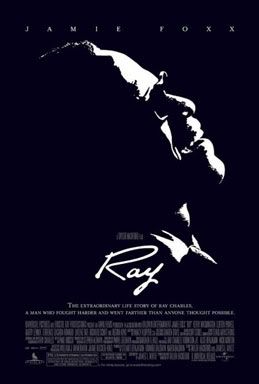 Before this year, I wasn't really a Jamie Foxx fan. Of all the "In Living Color" alumni, I ranked him somewhere in between Kelly Coffield and Kim Wayans, which, as you should be able to tell, is way down the list. I found his attempts at a music career to be laughable, and the fact that "The Jamie Foxx Show" is syndicated bothers me to this very day.
But after "Collateral", his hook on Twista's "Slow Jamz", and now his award caliber performance in "Ray," I find my opinion of Mr. Foxx to be changed.
I'm haven't been fan of recent bio-films, especially of celebrities as beloved as Ray Charles. Coming into the film, I was afraid this was going to be as bad as "Ali" or "Man on the Moon," instead, we are given a bio-film that succeeds, like "La Bamba."
In case you forgot, "La Bamba" was awesome.
Anyway, what makes "Ray" great is that the movie really holds no punches when dealing with the darker aspects of Ray's life, such as his drug problems, and infidelity. I feel people of my generation can't see Mr. Charles as anybody but the "You Got The Right One, Baby!" guy, and this movie fills us in on what made this man such a great artist.
Also, the performances from the supporting cast compliment Jamie's excellent turn as Ray Charles. Here we have strong performances from Kerry Washington and Regina King, as Ray's wife and mistress, as well as Larenz Tate, Bokeem Woodbine, Sharon Warren, Curtis Armstrong, and Warwick Davis.
Yes, Curtis "Booger" Armstrong and Warwick "Willow/Wicket/Leprechaun" Davis.
In the end, "Ray" succeeds, because it gives us not only a great performance, but also a great story.
Wow, that's two straight updates where I mention Booger. I never thought that would happen.
-Steve!