Netflix 10: Fever Pitch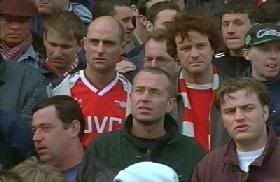 Remember all that hubbub about Jimmy Fallon and Drew Barrymore running around the field after the Red Sox won the World Series, and all of Red Sox Nation screaming about how it was sacrilegious to defile this moment in history just to shoot some movie? Well, that movie is "Fever Pitch," directed by the Farrelly Brothers, and is about one man's love of baseball, and more specifically, the Boston Red Sox.
Well, that movie has already been made, and it has nothing to do with baseball.
"Fever Pitch" was British film made in 1997 that starred Colin Firth, as a man who's life is ruled by his love for soccer (or as they call it in the film 'football'), and the Arsenal Football Club, specifically. Adapted by Nick Hornby, from his own memoirs, "Fever Pitch" is the best adaptation of a Nick Hornby novel I have ever seen. Due to the obsessive nature of his characters, Hornby has a huge following in the geek community, and as a card carrying member of the geek community, I am a huge fan of Hornby's work. I had problems with both "High Fidelity" (hated the girl who played the girlfriend, loved everything else) and "About A Boy" (just a little forced), but "Fever Pitch" captures the essence of a Hornby novel perfectly.
The book didn't really have much of a storyline, it was mostly just Hornby's recollections of growing up as an Arsenal fan in the late 1960s, and the next 20 years of his life, following the team. Here, Hornby fictionalizes the story, into a tale of an Arsenal obsessed teacher, who enters into a relationship with a woman who could care less about the sport as a potentially historic season for Arsenal begins. The movie follows their relationship during its ups and downs, and culminates with a big end of the year game.
Sadly, the movie received next to no attention here in the US, since I guess the studios were afraid Americans wouldn't get a soccer movie. Instead, the movie was banished to video (where for somereason, the cover features
a nearly naked woman and something the looks like it may or may not be the side of the back of Colin Firth's head
) where it really has only been enjoyed by those weird women who write webpages dedicated to Colin Firth, and people like me who searched it out, and have a lot of free time. Which is a shame, because the movie isn't about soccer as much as it is about being a sports fan, and as a Yankee fan, I could empathize.
The movie makes a point about how a team, and their community of fans is like a family, and I can see that. There's a great feeling to standing in a stadium, with thousands of people, all pulling for the same thing you want, and aching when you don't get it. The a weird group mentality (I've hugged random people after Yankee games, and to tell you the truth, I've never initiated it)
But, for the kids who rented the movie based on it's R rating, the naked chick on the video cover, and it's horrendous tag line ("There's More Than One Way To Score!"), I hope they at least rented something else, starring Shannon Tweed, or Shannon Whirry, or anything from the "Erotic Thrillers" section of the videostore, because this movie ain't got no boobs.
-Steve!