I batted .360 in 1989.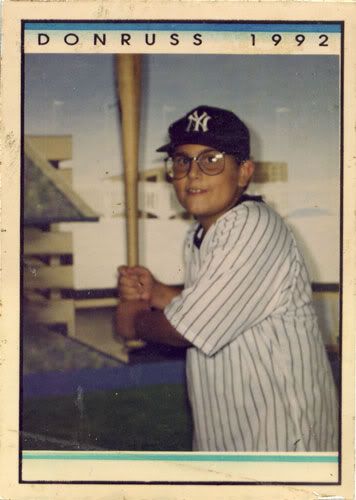 The other day, Felix, the 4 year old across the street, came over and was telling me of his plans to sell cupcakes to raise money for the hurricane victims, because "they have no homes, and there are crocodiles down there." His mother told me about how she was collecting old cellphones that would be donated and sent down there to use as emergency communication. I knew I had my old Virgin cellphone somewhere in my dresser full of crap, so that night, I went digging through there to find it.
I ended up throwing away 90% of what I had in there. A good chunk of it was old passes for movies I never went to, and free crap I have accumulated from years of comic book conventions.
But I did finally find the gem pictured above.
Y'see, back in 1992, there was a "Make Your Own Baseball Card" booth in Yankee Stadium. The back of the above card proclaims that in 1989, I hit .360. In 1989,
future Hall of Famer Kirby Pucket of the Minnesota Twins led the American League with a .339 batting average
. Therefore, I am the 1989 American League Batting Champion.
Sigh. I was a cute kid.
What the fuck went wrong?
-Steve!