Netflix 23: A Night In The Life of Jimmy Reardon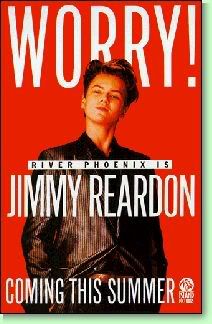 A few months ago, I downloaded the complete first season of the great television show "Parker Lewis Can't Lose". Sadly, the guy who digitized all the episodes edited out all of the commercials, but he did leave the credits on the end of the show, where the announcer implored me to do such things as "Tune in this Thursday for a brand new episode of The Simpsons, followed by the premiere of Babes!" At the end of the episode where Parker has to find a date for Frank Lemmer, or else Lemmer has to go out with Ms. Musso's niece (but little does he know that the girl Parker has found for him IS Musso's niece!), the mysterious announcer voice told me to "Tune in Monday night for the special movie presentation of River Phoenix in 'A Night In The Life of Jimmy Reardon'."
This clicked something in my memory. I remember seeing this in the video store years ago, back in 1989 or 1990. I remember the
video box art
made it seem like a teen comedy, along the lines of "Ferris Bueller". I did a quick IMDB search, and found out that it is the furthest thing from the truth. I slapped it onto my Netflix queue, and it arrived a few weeks ago.
River Phoenix plays Jimmy Reardon, the wannabe beatnik son of an upper middle class family living in an upper upper class neighborhood in an early 1960 Chicago suburb. Jimmy guides us through his last day before he's supposed to leave for college, as he cheats on his girlfriend, uses his friends, treats his family like crap, and tries to get his girlfriend to give up her virginity.
He's not a very like-able guy. And that's this film's main flaw. Supposedly, the film's director, who adapted his own semi-autobiographical novel for the screen, clashed with the studio (this obviously shows in the film's title, as 'A Night In The Life of Jimmy Reardon" contains two nights, a day, and a morning). I've read that he's dug up another four minutes of film that he's included in his director's cut which supposedly makes Jimmy easier to empathize with.
The whole movie sort of comes together in the end sequence, which is the best part of the movie. All of a sudden, Jimmy realizes that him and his father have something in common, and it puts his whole life in perspective. I liked that scene.
The rest of the movie though, is a bit of a mess.
-Steve!