Netflix 33: Irma La Douce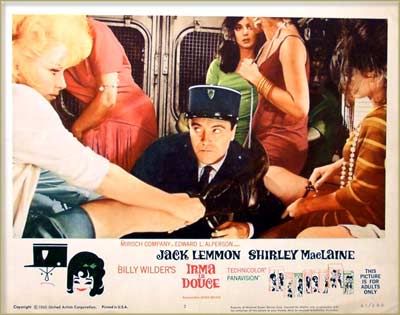 So today, I started my Billy Wilder film marathon. I've decided to knock out the Billy Wilder films that I haven't seen that I could get from Netflix. At the top of my list was "Irma La Douce", since it stars Jack Lemmon and Shirley MacLaine, reteaming from my favorite Billy Wilder movie "The Apartment".
Jack Lemmon plays a straight laced policeman who falls in love with Shirley MacLaine's hooker, and later goes on to become her jealous pimp. The weird thing is that the movie is set in France, although it is full of American sensibilities. I mean, it should have just been set in New Orleans or something. There is basically not one character who speaks in a French accent throughout the movie.
I'm totally surprised that this film hasn't been tapped for a remake for today's pimp-loving culture. I can see Jamie Foxx in the Jack Lemmon role, and Beyonce in the Shirley Maclaine role. Get Cedric the Entertainer to play pimp's bartender accomplice, and set it in, oh, I dunno, let's say Atlanta. Cast Snoop Dogg as the rival pimp, and I think we've got a box office champion in the making.