Mystery Box O' Cards: Butch Edge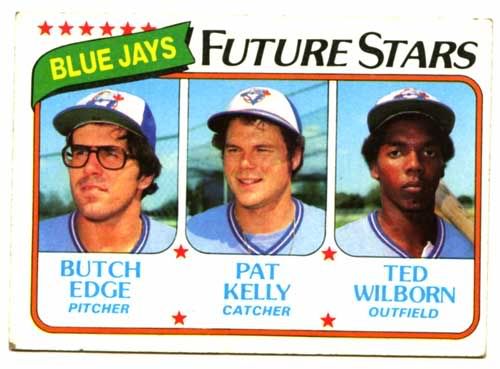 When I pulled this card from the box, I was struck by the face staring back at me. Look at him. The hair too wild to be contained by the slightly askew hat. The thick, black frames. A slight bit of stubble. Baseball players don't look like this anymore.
In 1980, the Topps Company declared Toronto Blue Jay's pitcher Butch Edge a "Blue Jay's Future Star". He occupied card number 674 of the 1980 Topps Baseball set, along with catcher Pat Kelly, and outfielder Ted Wilborn. The back of the card gave a little more info on the enigma that is Butch Edge. He was 6 foot four, and weighed 190 pounds. He was a righty, both throwing and hitting right handed. Born on July 18, 1956 in Houston, Texas, he made his home at the time in Auburn, California.
Little did Topps know that Butch's Major League career was over before this card was printed.
According to
baseball-almanac.com
Claude Lee "Butch" Edge wore #16 for the Jays, as he pitched in nine games from the middle of August to late September of 1979. He had a losing record, going 3-4 with a 5.23 ERA. He gave up 6 home runs, 60 hits, 30 earned runs, and 24 walks. He hit one batter and threw 4 wild pitches. He pitched 1 complete game, and struck out 19 men in his one year career.
The 1980 Complete Handbook of Baseball
agreed with Topps:
Butch Edge, 23, 6-4, 190    Bats R Throws R

Was 3-3 in eight games with Jays in '79…Plucked from Brewers' farm system in expansion draft…Was Milwaukee's No. 1 pick in June, 1974, draft…Strikeout artist in the minor leagues…Has outstanding arm and fine minor-league credentials…Has shown steady improvement.
And the Jays seemed high on Butch, according to
this 1979 Spring Training report
:
Butch Edge has increased his throwing velocity!
Butch Edge has improved his control!
What exactly happened to Butch? According to
Retrosheet.org
, Butch was released during the spring training of 1980 by the Jays. He was picked up a few days later by the Braves, where he lingered in the minor leagues for a few years. Somehow, he ended up in the White Sox organization (where he signed an autograph for
this enthusiastic Sox fan
) who eventually traded him along with Ross Baumgarten to Pittsburgh Pirates in exchange for Vance Law and Ernie Camacho in the spring of 1982. By that time,
Butch had moved from the mound to behind the plate
. By 1988,
Butch Edge was the head coach of the Santa Ana College Women's softball team
.
This lucky fan
had the honor of Butch Edge pitching the first game that Orioles fan ever saw. He gave two home runs to Eddie Murray (who I used to always confuse with Eddie Murphy).
So in the end, Butch ended up being one of the many nameless players who populate the minors, only spending a minute in the majors.
Except to me, Butch isn't nameless anymore.
He's got one of the greatest baseball names I've ever heard.