Steve Goes To The Toy Fair!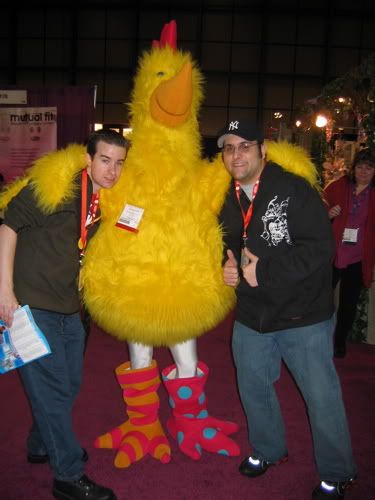 I love toys. Not just action figures, but toys of all kinds. I always have. I'm one of those guys that never ever stopped buying toys. And as a toy lover growing up in New York City, I've always been intrigued by Toy Fair. As an industry-only event, I was always left outside, crying, while crazy old business men would be inside, playing with new toys. I remember whenever February rolled around, I would watch the local news daily, waiting for the usual 3 minute novelty piece where they sent the wacky reporter to the Javitz Center, where they would show a handful of interesting new toys. When I discovered the hobby magazines, I would run to the comic stores and drool over the magazines of photos and photos of new product (I wouldn't buy them, I would just drool over them).
A few years back, my buddy Jeremy, through some crazy witchcraft, was able to acquire a pass to the this Willy Wonka-like wonderland. He'd show me photo after photo, all while regaling me with tales of inside this wonderland.
Anyway, I had planned to spend my President's Day by checking out that giant playing card city that was being built inside the Good Morning America Studios, buying some of the cards to benefit the tsunami charities, and then going to see a movie or two.
Late last night, Jeremy IM'ed me and asked me if I would like to use his extra guest pass for Toy Fair tomorrow.
Screw charity, man, I'm going to Toy Fair!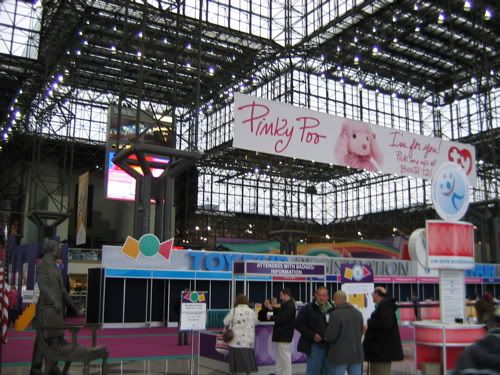 The promised land.
Of course, Jeremy had no appointments at the showrooms of the larger toy companies, located across town in the "Toy District," so all we would see today was the giant grab bag of fun that is in the Javitz Center. These are all the smaller companies that don't put up the money for their own showroom, but that was fine with me. I was excited to check out the wacky shit I didn't need, but I had to buy.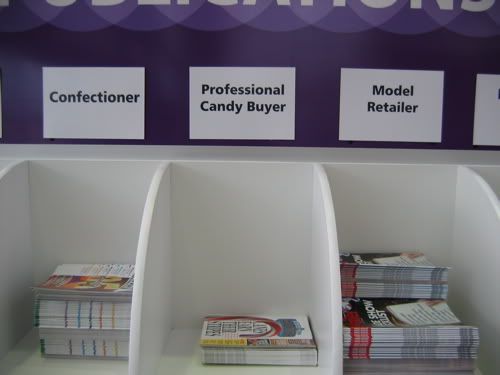 While waiting for Jeremy to arrive, I perused the free industry magazines, and I decided I found a new calling in life. I need to become a "Professional Candy Buyer." No more of this amateur shit for me.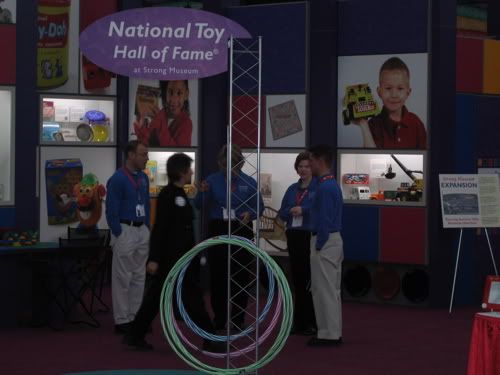 As I continued to wait for Jeremy to arrive, one of these fine people at the National Toy Hall of Fame asked me if I wanted an Extra-Long Pencil. I exclaimed, "YES!", and luckily, he actually gave me an extra-long pencil. In hindsight, I really should have put more thought into that response.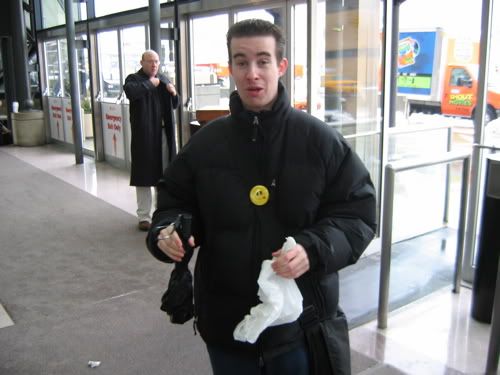 Finally, Jeremy arrives, and we venture inside the hallowed halls of the Javitz Center.
Y'know, looking at the place, I am in awe of it's size. Despite it's lousy location, I still think they could throw an awesome comic book convention there.
Damn you, organized crime. Damn you.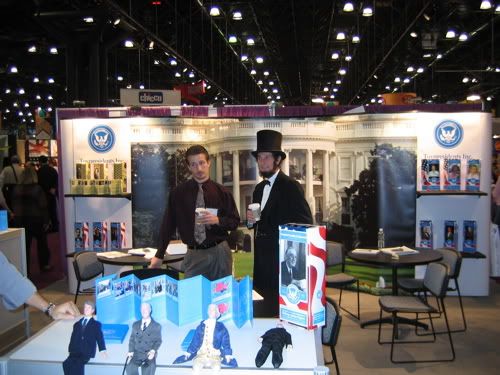 All the celebrities were there, including long-dead President Abe Lincoln.
It's actually kinda sad that Abe had to spend President's Day working.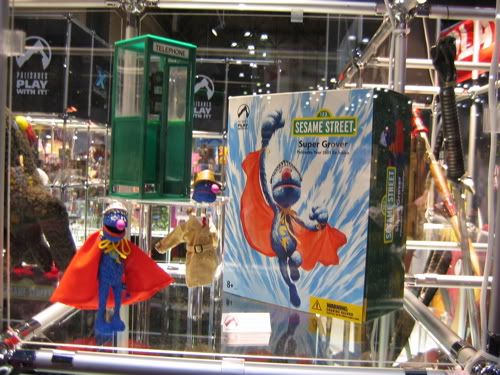 The true highlight of the show was seeing the prototypes for Palisades' Sesame Street line, including the awesome summer convention exclusive Super Grover picture. The painting on the cover of the box was done by Alex Ross. It's my favorite Ross piece in a long time.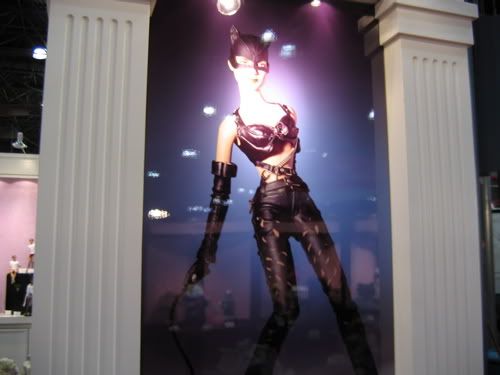 I forgot what company this was, but I'm 100% sure they had no clue what they were doing.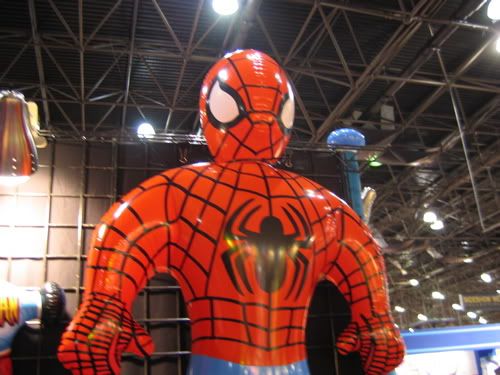 This year's inflatable Spider-Man's are 50% bigger than last year. If they continue to progress at this rate, we are all doomed.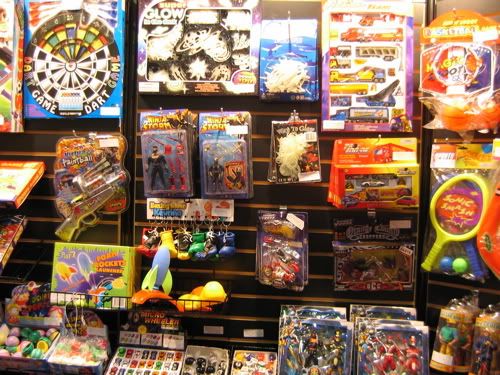 Coming soon to 99Cents Stores everywhere are this year's assortment of Generic Ninja Figures, Toxic Glow In The Dark Stickers, and Eye-Sight Endangering Pellet Guns.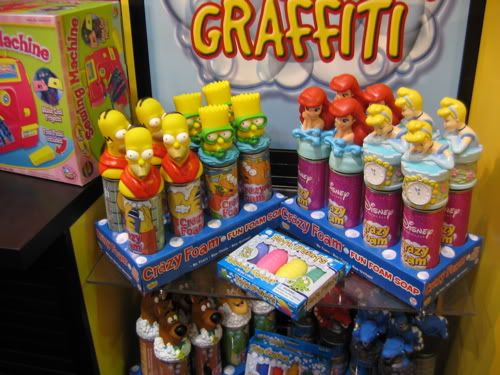 Foam Fun Soap! I've been waiting years for this shit to make a comeback. If only the Simpson's version came in Be-Sharp packaging, but then it would probably have to be poisonous.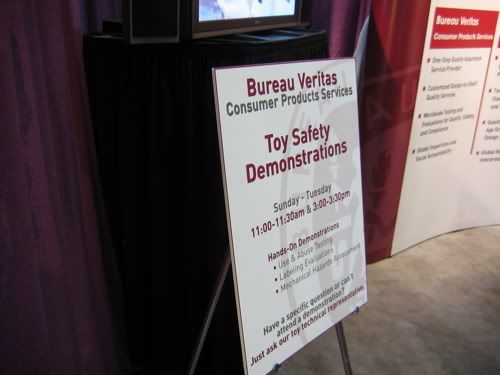 Perhaps the emptiest section of the whole show.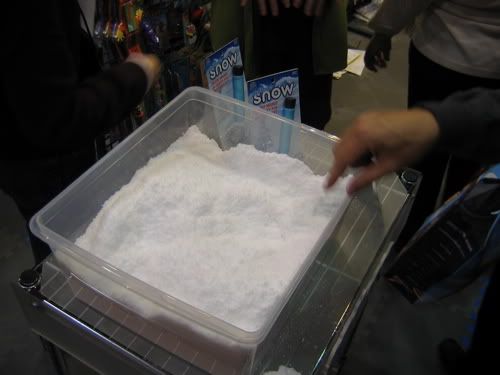 This was the coolest thing I saw at the show: Instant Snow! It comes in test tubes vials of powder, that magically becomes snow after adding water! It's doesn't melt, but in two weeks time, it dries up, and you can use it over again. It's always cold, and can be frozen in a freezer to make a snowball. I'm probably all sorts of sterile now for touching it, but man, it was so worth it.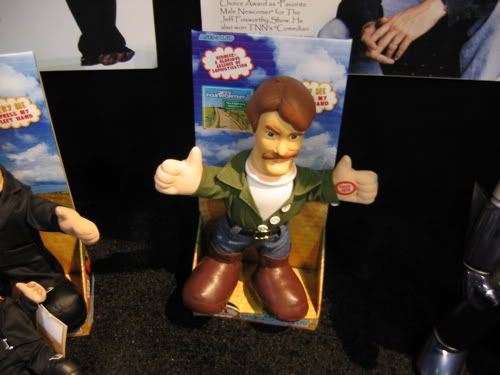 Finally, a Jeff Foxworthy doll! Some genius company is making talking dolls of Jeff, and his partners-in-crime, Larry The Cable Guy and Bill Engvall! Now I can re-enact my favorite parts of "Blue Collar TV" like 'not watching it' and 'wishing it was cancelled.'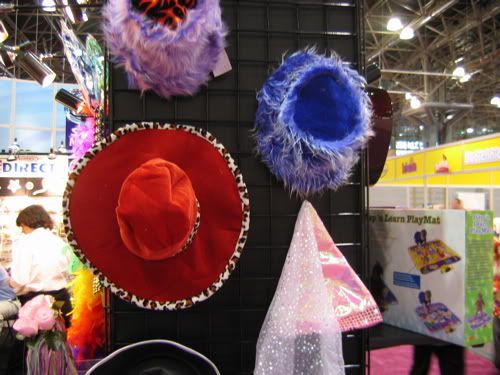 Another year goes by without anything new to report on the state of the pimp hat in America. One of these days, someone is going to blow that industry wide open.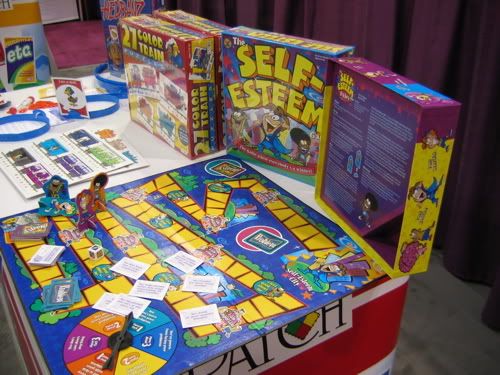 I don't know about you, but if I had to play the 'SELF ESTEEM GAME!', my self-esteem would plummet. That is, if I had any self-esteem left.
...sigh...
WHERE WERE YOU WHEN I NEEDED YOU SELF-ESTEEM GAME? All I had was Trouble, whose Pop-O-Matic die mocked my skills at dice throwing.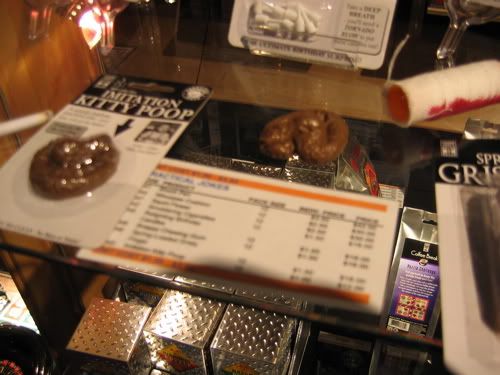 Imitation Animal Poop: now available in cat variety! Dog poop was getting so old.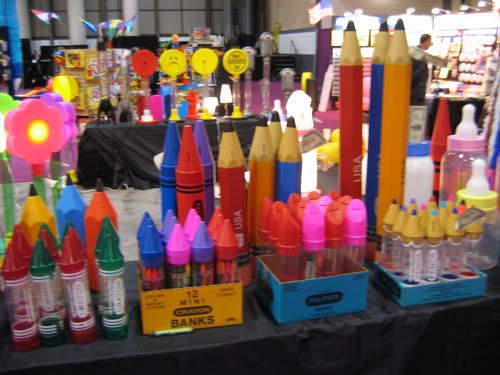 GIANT #2 PENCILS! Where were these when I took the giant SATs?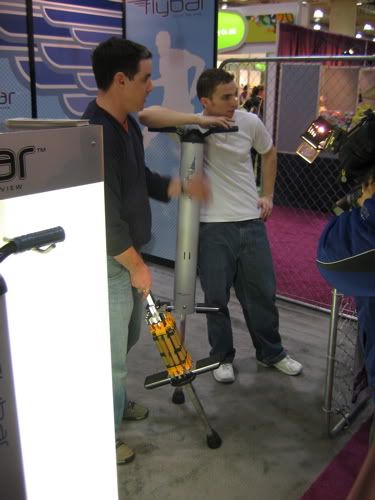 That is the world's most awesome pogo stick. It launches you ten feet into the air. Once these things hit the market, expect cars to become useless. Expect to highways and streets loaded with people bouncing from one destination to another.
Take that Segway!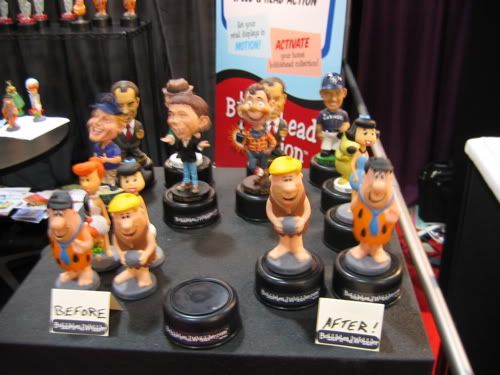 The greatest invention of the entire show: the Bobble Head Bobbler. Simply place your favorite bobble head on this stand, and watch as it bobbles itself for hours on end. If you can tell me you can look at that and not actually say "Why didn't I think of that?", you're lying.
And finally, the greatest toys of the show were the only ones where I was told I couldn't take pictures of. But luckily, they have them all up on their website! Everyone, check out
Dieter Mueller's American Teens Collectors' Series Dolls
!
-Steve!