"I'll smack you in the mouth, I'm Neil Diamond!"
So, on May 7, 2008, I may have seen the best concert I will ever see in my life.
One of the greatest things I inherited from my Mom is a love of the Jewish Elvis, Neil Diamond. Until I was 5, I thought "America" was the national anthem. This love of Neil Diamond, led to him being one of my only two celebrity friends on MySpace (him, and Kevin Federline). On Tuesday night, a bulletin went up, alerting all of Neil Diamond's friends to a MySpace Secret Show at The Bitter End on Bleecker St on Wednesday, May 7, 2008. Now, The Bitter End is a tiny little club where Neil used to perform in the 1960's. Here's video of Neil performing his classic "Solitary Man" at The Bitter End back then.
Now, I'm never one to make a big deal about secret shows and whatnot, but Brooklyn's own Neil Diamond coming home to Greenwich Village, well, I couldn't pass it up. The only problem was this was a first come, first serve show, and this club couldn't hold more than 150 people. But I had work, and couldn't spend the whole day in line. How could I make this happen?
So, I went through my rolodex of unemployed friends, and for $50 plus train fare, Anthony was willing to come in from Long Island and spend a whole Wednesday waiting on line for me. I had sent him all the information he needed to find the club, and told me he should get there at around 11 that morning.
Being that Sunday is Mother's Day, I told my Mom to get out of work as early as possible, I promised her that she would see Neil that night.
So, I go to work the next morning, and I'm more useless than normal. I can't concentrate, I'm too excited about Neil. At 10:57AM, I get the following text message from Anthony.
"So I am at the theater. There is no one here and the doorr are locked. I guess I'll wait around here an see if anything happens."
Holy crap, Anth was first in line! I told him do not leave, I'll stop by at lunch to see how it was going. At around noon, there were a dozen or so people on line, including a handful of Neil superfans. I decided then that I needed to get out of work ASAP, to make sure it won't be an issue when my Mom gets there. I came back at around 3, and was told I just missed Neil arriving for soundcheck. As we waited in line, we could hear Neil sound checking the entire show.
Finally at around 5:00pm, my Mom showed up. I told her she was in for something special. Suddenly, Neil exited the club. He was right there. Right in front of me. NEIL. FRICKIN. DIAMOND.
Neil assured us that the show was going to be special. He left and we continued to wait in line. The doors opened at 7pm, and we made our way in. The club was smaller than I thought it was, and since were first in line, we grabbed seats at a table right at the foot of the stage.
Then, at nine, Neil hit the stage.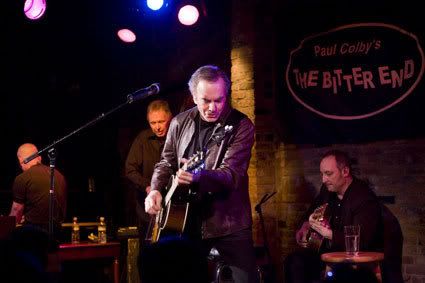 He started off with "Solitary Man". And I was sitting right in front of him. NEIL. FRICKIN. DIAMOND. was less than two feet away from me.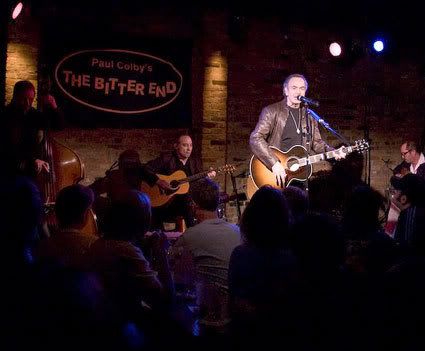 See that silhouette of a large, oafish man wearing a baseball cap to the right of Neil? That's me.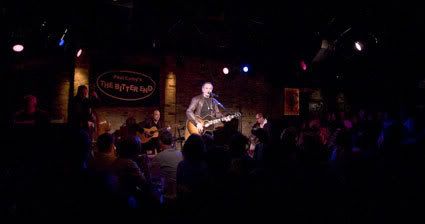 He did three tracks off his excellent new album ("Don't Go There", "Home Before Dark", and "Pretty Amazing Grace"), and then he told us he had some oldies for us.
"Kentucky Woman".
"Cherry, Cherry".
and then...
"Sweet Caroline".
That was it, as Neil said thanks to everyone, and left us all wanting more. Sadly, there was no encore, but it just left even more excited for Neil's shows this August at Madison Square Garden.
This really was something special. The club opened up the windows, and turned a speaker to the street to share the magic of Neil to the rest of New York City. There's video of that on YouTube, and the official recording of the show will be on MySpace next week.
We all got special limited edition posters, and my Mom was really happy. I don't think I'll ever see a show as special as this ever again.
-Steve!