Day 7: Full Circle
I woke up periodically between 7 and 10, finally topped off with Kieran kicking me off of his couch, and telling me I had to leave. After a quick shower, last minute packing, and saying goodbye to one of Kieran's room mates, we were off to the airport.
But we had something to do first...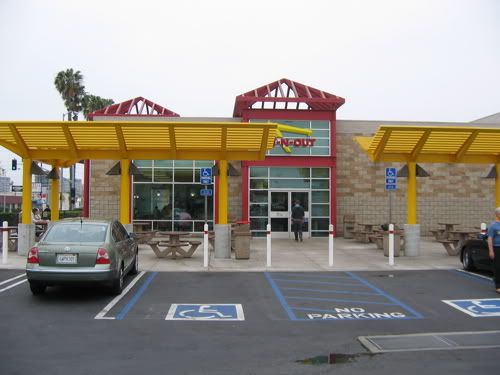 We then made the trip over to Long Beach airport, finishing up our week long discussion about what was wrong with everything. I noticed a sign stating that tonight's "A Current Affair" was having a story about Bigfoot, so I had to call my friend Chris who works over there to congratulate him.
After arriving at the airport, we said our goodbyes, and I headed to the gate. I creeped out a hot chick who thought I was staring at her, when all I was really doing was trying to make out the sports headline on the back cover of her New York Post. Alright, maybe I was staring a little, but I was really interested in what stupid move the Yankees were going to make. As I slumped down into a chair, ready to crack open the Kevin Smith book. I could hear The Dream Academy's "Life In a Northern Town" pumping over the lounge speakers, and I could feel the camera pulling away, the closing credits beginning to roll.
-Steve!